Process Development Center
We have lined up process equipment, enlarged clean environment, and various verification and measurement equipment to create new value. We will proactively conduct consortium activities with research and development agencies including materials.
we are challenging the innovation of the manufacturing process,
in order to provide optimal solutions for customers.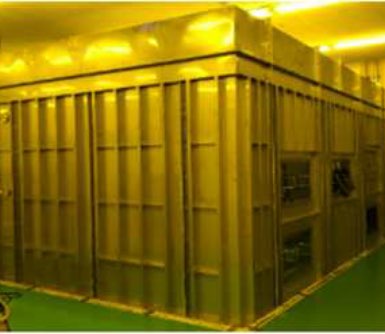 RGB-IJP Equipment
Fine Dot Printing, 300ppi RGB Printing
No.
Items
Specifications
1
Substrate size
Max 400×500mm
2
Method
Piezo Inkjet
3
Materials
UV cure resin
Conductivity resin
Resin with solid content
Material with QD
4
Volume(pl)
2~4
5
Environment
Air・N2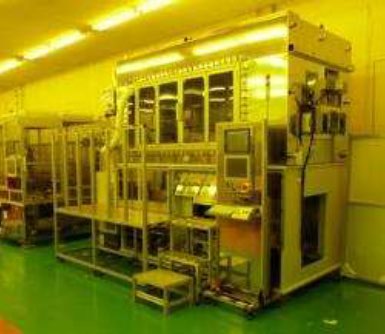 TFE-IJP Equipment
Surface Printing: Thickness 1~200μm
No.
Items
Specifications
1
Substrate size
Max 370×470mm
2
Method
Piezo Inkjet
3
Materials
UV cure resin
Conductivity resin
Liquid crystal
4
Volume(pl)
6~40
5
Environment
Air・N2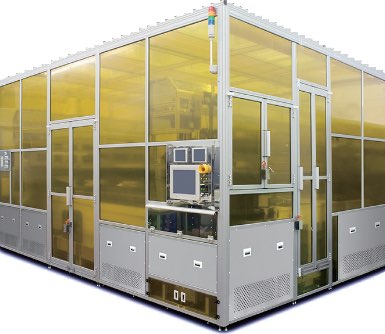 IJ / Jet Printing Equipment
Evaluate High viscosity materials by IJP and Jet Dispenser
| No. | Items | Specifications |
| --- | --- | --- |
| 1 | Substrate size | Max 370×470mm |
| 2(1) | Method | Piezo Inkjet |
| | Volume(pl) | 2~40 |
| | Viscosity(mPa.s) | 10~500(heated) |
| 2(2) | Method | Jet |
| | Volume(µl) | 0.001~0.2 |
| | Viscosity(mPa.s) | 100~100,000 |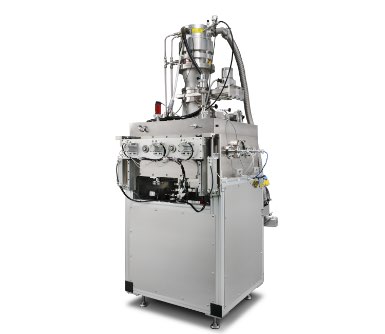 Vacuum Dryer
The vacuum dryer that can be set vacuum profile and temperature
No.
Items
Specifications
1
Substrate size
Max 400×500mm
2
Evacuation
DP, TMP
3
Evacuate speed
DP:30,000L/min
TMP:1,300L/min
4
Evacuate control
Configurable
5
Heat table
Max 250℃
6
Degree of vacuum
Below 0.1Pa
Bake Oven
Bake oven that can be set temperature
| No. | Items | Specifications |
| --- | --- | --- |
| 1 | Substrate size | Max 400×500mm |
| 2 | Slot | 2 slot |
| 3 | Heat table | Max 250℃ |
| 4 | Substrate position (height) | Configurable (0~5mm) |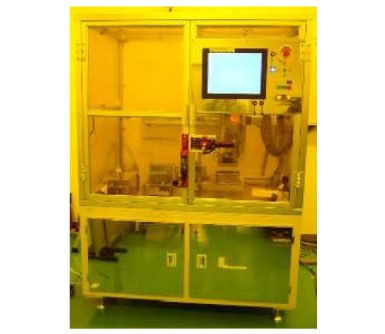 Offline Equipment
Evaluate for stable volume jetting of material
No.
Items
Specifications
1
Method
Piezo Inkjet
2
Materials
UV cure resin
Conductivity resin
Liquid crystal
3
Volume(pl)
6~40
4
Environment
Air
Dispense・Alignment Technology (ODF)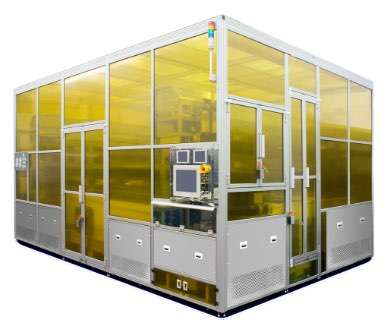 Dispenser
LCD:Seal/LC dispensing  
OLED:DAM/FILL dispensing
Optimize for each materials by various of DSP head and Inkjet head
| No. | Items | Specifications |
| --- | --- | --- |
| 1 | Seal/DAM dispense | Pneumatic Dispenser |
| 2 | Seal/DAM viscosity | 10,000~1,000,000mP・s |
| 3 | LC/FILL dispense 1 | Micro Syringe |
| 4 | LC/FILL viscosity | 10~500mPa・s |
| 5 | LC/FILL dispense 2 | Inkjet |
| 6 | LC/FILL viscosity | 5~15mPa・s |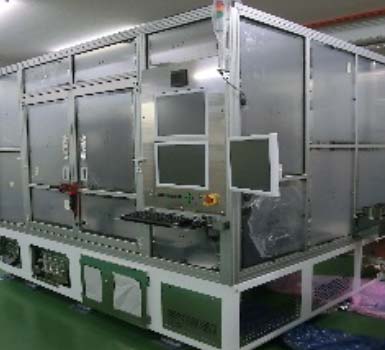 Inkjet Equipment
Capable of forming nano-level thin films of functional materials
Inkjet head can be selected according to the customer's purpose
| No. | Items | Specifications |
| --- | --- | --- |
| 1 | Substrate size | Max 400×500mm |
| 2 | IJP head | 1/3.5/10/14pl etc. |
| 3 | Heat unit | Heat Max 50℃ |
| 4 | Resolution | Minimum 1μm |
| 5 | Speed | Max 200mm/s |
| 6 | LED-UV | 365nm |
| 7 | Materials | Various (Please ask) |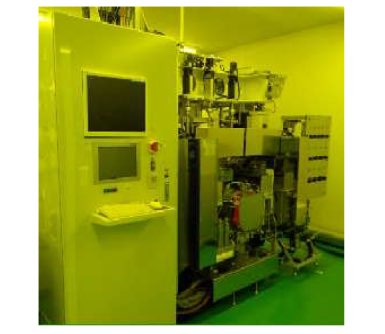 Vacuum Alignment System
Bonding by ODF method under high vacuum is possible even for large substrates
Multi-size support is now possible
| No. | Items | Specifications |
| --- | --- | --- |
| 1 | Substrate size | Mas 925×1500mm |
| 2 | Chuck method | D-PSC Adhesive Pad |
| 3 | Degree of vacuum | 0.5Pa |
| 4 | Mechamical press | Max 5.0KN |
Semiconductor Package Technology
Micro ball Mount System
Applicable for PCB/Wafer Apply 40um ball mounting
Realize high throughput by systemize inspection and repair equipment
No.
Items
Specifications
1
Substrate
PCB/Wafer
2
Substrate size
Max 300x300mm*1
3
Substrate thickness
0.10㎜~
4
Ball size
40μm~
5
Ball pitch
85μm~
6
Line tact
60 sec (depends on conditions)
7
Accuracy
±10um
8
Inspection & Repair
Camera resolution
4.5um Pixel
9
Inspection & Repair
Repair nozzle
2 or 4 nozzle
*1 Please ask over 300x300mm size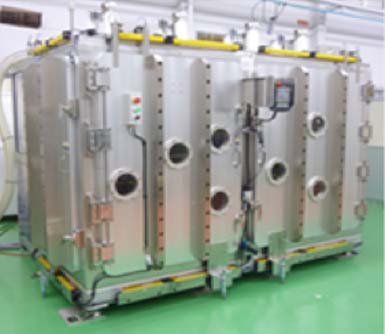 Vacuum/Air Laminator
Laminate film on both sides of substrate by roll-to-roll method
Vacuum bonding can be selected and micro voidless or stepped voidless bonding is possible
| No. | Items | Specifications |
| --- | --- | --- |
| 1 | Base size | Max 350mm |
| 2 | Film width | Max 330mm |
| 3 | Lamination roll | Jacket roll with induction heat |
| 4 | Speed | 0.1~4.0m/min |
| 5 | Pressure | Max 7N/cm |
| 6 | Temperature | R.T.~150℃±3℃ |
| 7 | Degree of vacuum | 50Pa |
Thin Film Forming Technology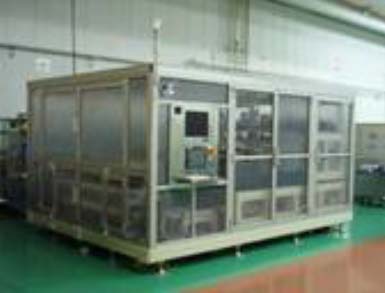 Nanoimprint Equipment
Film soft mold can be formed from master mold
Voidless imprint is possible with imprint roll and soft mold
| No. | Items | Specifications |
| --- | --- | --- |
| 1 | Substrate size | Max 300×400mm |
| 2 | Film width | Max 300mm |
| 3 | Imprint pressure | Max 1000N |
| 4 | Imprint speed | 0.1~100mm/s |
| 5 | Demolding speed | 0.1~100mm/s |
| 6 | LED-UV | 365nm Scan type |
| 7 | Materia coating | IJP demo equipment |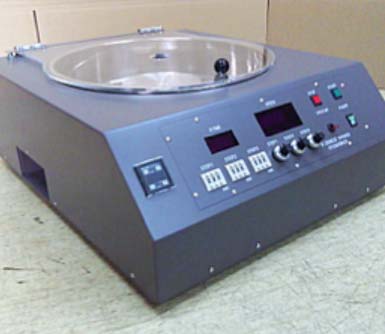 Spin Coating Equipment
Efficient and uniform spin coating of chemicals such as photoresist on the substrate
| No. | Items | Specifications |
| --- | --- | --- |
| 1 | Model number | K-359SD-2 |
| 2 | Substrate size | Max φ8 inch (200mm) |
| 3 | Forming thickness | 10nm~several um |
| 4 | Rotation | Max 7,000rpm |
| 5 | Rotation accuracy | ±0.2%(~3,000rpm) |
| 6 | Fix method | Vacuum suction |
| 7 | Materials | Drop by Demo equipment |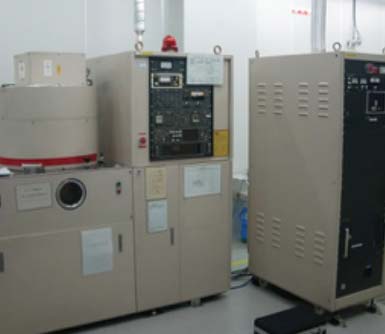 Spatter Equipment
Capable of forming metal films such as AL and Cr at the nano level
No.
Items
Specifications
1
Model number
SH-450-T10
2
Substrate size
Max φ8 inch (200mm)
3
Power source
2kW High Frequency Power Source x 1 set
Possible to form insulation material and Metal target
4
Reversed spatter
Yes
5
Spatter cathode
φ6 inch Nonmagnetic Cathode x 3 sets
6
Process gas
Ar、N2
7
Degree of vacuum
Below 1.0×10-4Pa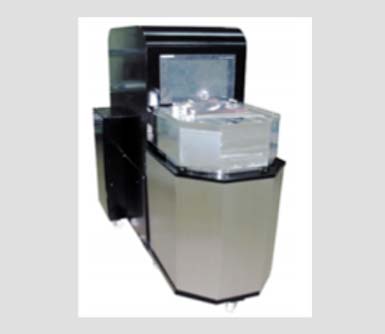 ICP Etching Equipment
Possible to etch for Sub-micron pattern
Possible to etch and ash in the same chamber
No.
Items
Specifications
1
Model number
SERIO-2A-LHOF
2
Substrate size
Max φ8 inch (200mm)
3
Power
2kW High Frequency Power Source x 1 set
500W Low Frequency Power Source x 1 set
4
Work fix method
Static chucking method (with cooling mechanism)
5
Taper angle cotrol
90°~85°
6
Process gas
Max 5 system (CL・F gas)
7
Degree of vacuum
<1.3×10-3Pa(ICP room)
Measuring Equipment and Others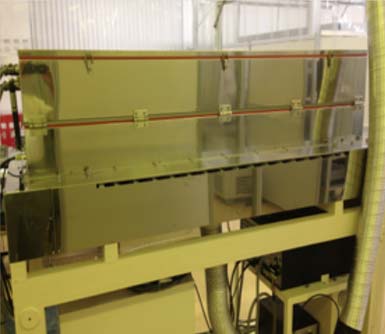 Surface Reforming Equipment
Excimer UV method
Substrate size:
Max □1000mm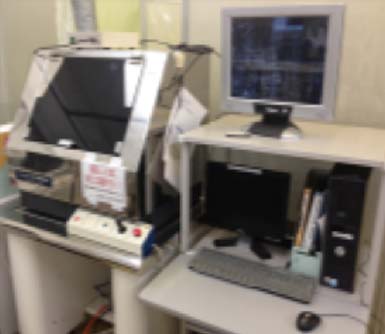 Film Thickness Step Measuring Device
Contact method by needle
Substrate size:
Max □210mm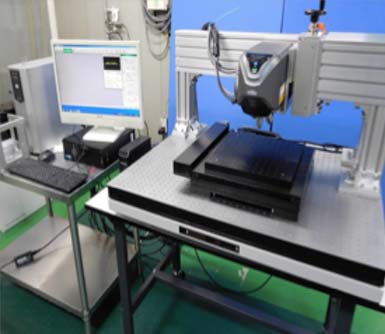 Shape Analysis Laser Microscope
Violet semiconductor laser: 404nm (class 2) non-contact type
Substrate size:Max □300mm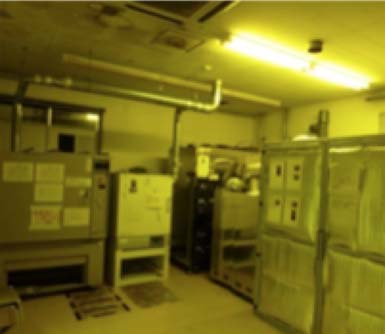 UV Curing Oven
Curing material by UV radiation
| No. | Items | Specifications |
| --- | --- | --- |
| 1 | Size | 730×900mm |
| 2 | Method | Metal Halide |
| 3 | Wave Length | 330~450nm |
| 4 | Illumination | 100mW/cm2 |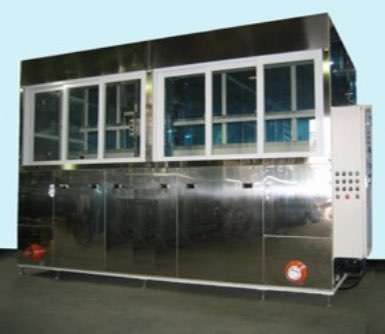 Ultrasonic Cleaner
Max□370×470mm size is applied
| No. | Items | Specifications |
| --- | --- | --- |
| 1 | Tank | 2 tank |
| 2 | Cleaning | Shake and Temp control |
| 3 | Solvent | Pure water/Cleaning solvent |
| 4 | Drying | Hot air |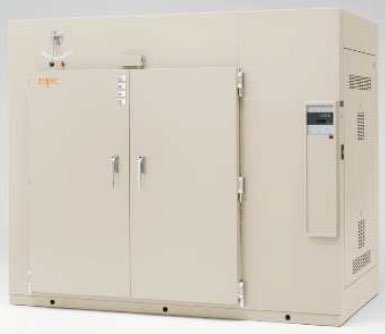 Large size Bake Oven
Max□1,500×900mm(G6-Half) glass is applied
Large size oven that can handle various heat treatment such as Dry, Baking and Annealing
No.
Items
Specifications
1
Model number
HLKS-4C
2
Substrate size
Max 1,500×900 mm
(3 slots)
3
Method
Air circulation
4
Heat temperature
Max 300 ℃
5
Environment
Air