Start Ink-Jet Printing Demo in Nitrogen atmosphere 
Inkjet printing demo in N2 atmosphere is ready, and it has become to possible evaluation for necessary process of Premium Display manufacturing in N2 such as RGB printing forming process and flattening forming process.
The environment for performing sample evaluation tests such as the QD/OLED RGB process and TFE process in a more production-like environment is bring shorten the time from material evaluation to panel production process evaluation.
The demo machine is equipped with New AIJ-Head, and widely supports from low viscosity of 1 mPa·s to high viscosity of 40 mPa·s (normal temperature). In addition, it also has a side shooter type head, which enables stable coating evaluation.
We will continue to actively apply to the semiconductor and medical fields regardless of the display field.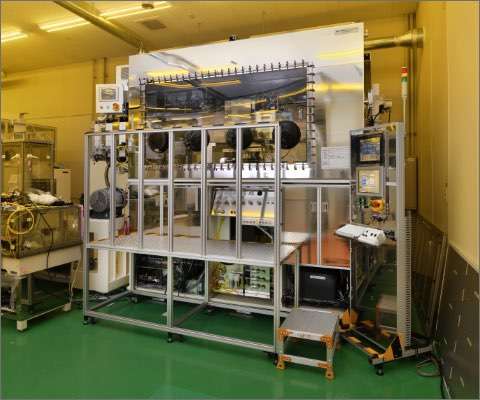 No.
Items
Specifications
1
Substrate size
Max 400×500mm
2
Method
Piezo Inkjet
3
Materials
UV cure resin
Conductivity resin
Resin with solid content
Material with QD
4
Volume(pl)
2~4
5
Environment
Air・N2